Raglan Street Foods, Renfrew and Burnstown Castle Building Centres come up big at business awards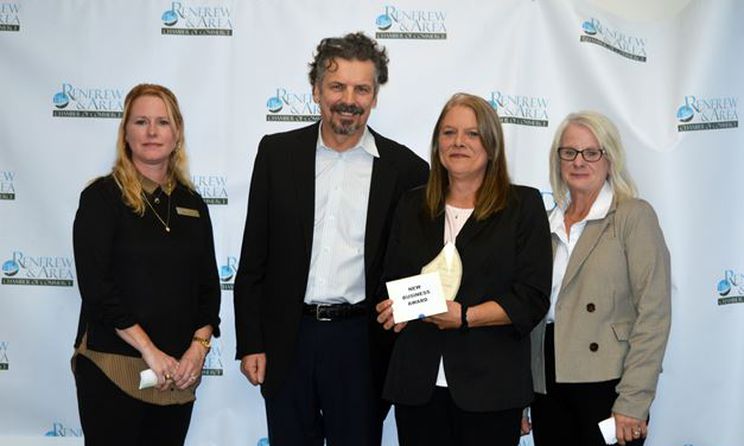 myFM also earned BIA Member of the Year honours
The annual Renfrew and Area Chamber of Commerce Awards are a chance to highlight the area's businesses both old and new.
During the Oct. 20 event, three local businesses were honoured for their accomplishments.
The New Business Award went to Raglan Street Foods. Specializing in high-quality meats, wholesale foods and other imports, it opened last year and is owned by partners Roch Quesnel and Winona Bennett.
"They opened their deli butcher shop in Renfrew on the beautiful main street in July 2021," said Karen Lumm of RBC, the award's sponsor. "Just that date alone tells me how brave they were, since it was the middle of the pandemic, but they went for it."
A business like this was needed in Renfrew, she added.
"I've heard many folks say they don't have to drive to the city anymore and they can support local, which is what we want," Lumm said. "Roch and Winona work very hard to provide the freshest quality meats as well."
Quesnel, the main cook, said the business, which sports the slogan, "Not fast food, but good food fast," has had a great first year. He noted it's good to be back where he grew up.
"I grew up here in the '60s and '70s, and like a lot of young people, we moved on for the better part of 40 years, so we've come full circle to come back here," he said. "I've always been looking forward to coming back, and it's really good to be back."
Beneficial Meadows and Queen Pin Sewing were also nominated in the new business category.
Laurie Wichers-Schreur and Rebecca Gravelle of Renfrew and Burnstown Castle Building Centres receive the Outstanding Business Achievement Award. Also pictured are Renfrew chamber president Carol-Ann Adams and Julie Villamere of award sponsor Ontrac. | Jonathan Mulvihill/Metroland
Renfrew and Burnstown Castle Building Centres were honoured with the Outstanding Business Achievement Award. Julie Villamere, with award sponsor Ontrac, said the businesses have helped the community grow.
"They have opened a new store on Raglan Street, which is absolutely stunning, along with their sister location in Burnstown," she said. "Not only do they employ local people, but they continue to support the community. Whether it be sponsoring the lunch at the hospital's golf tournament, donating a prize to a local raffle, fundraising for the local food bank or being a sponsor for the Renfrew Fair, they've done it all."
Co-owner Laurie Wichers-Schreur said she and her team are honoured to be warmly welcomed into the community.
"It's been just six years since we moved here and five years since we closed the purchase of the Burnstown location," she remarked. "We've come a long way in that time, but we couldn't do that without all the folks supporting us and our amazing crew that has grown from four people to 30 today."
Rebecca Gravelle, the business' vice-president of HR, added the team is proud of its growth and community involvement.
"That's one of our main pillars of why we do what we do," she said. "It's to help make a stronger community."
Bob Dillabough, Marg McNab-Tubman and Aline Stukart of myFM accept the award for Renfrew Downtown BIA Member of the Year. Also pictured are Ben Oakes, left, and Christina Ouellet of the Renfrew BIA. | Jonathan Mulvihill/Metroland
The Renfrew Downtown BIA Member of the Year Award went to myFM, which will eventually move into the expanded Ma-te-Way Activity Centre.
"They are wonderful, trustworthy and a pillar to our community," Renfrew BIA chair Christina Ouellet said. "They helped out with small businesses in downtown Renfrew, especially during COVID."
Marg McNab-Tubman, who will retire from the position of vice-president of HR and administration in December, noted the radio station has served the community since 2004.
"We started with one station here, and we grew to 18 across the province," she said. "We have about 125 employees across the province, and our motto is 'Community First' in every one of our radio stations."